Held on 8 April 2017 at B1.8 room of Faculty of Computer Science (FILKOM), this workshop followed by around 30 lecturers of Informatics Engineering Programme. Speaker at that occasion was Dr. Ir. Sri Rahayu Utami M.Sc. as lecturer at Faculty of Agriculture UB. Explained by Wijaya Kurniawan, S.T, M.T as Head of Quality Assurance Unit (UJM) Informatics Engineering Programme as well as committee of this workshop that currently accreditation of Informatics Engineering Programme is "B" and hopefully on the next accreditation will be got an "A" accreditation.
Workshop started with discussion about each standard of 3A form, start from standard 1 up to standard 7. Each form consist of 7 (seven) standards, namely (1) vision, mission and goal, (2) organization, (3) student and graduate, (4) Human resources/SDM, (5) curriculum and academic atmosphere, (6) financial and facilities, (7) research and community services and cooperation.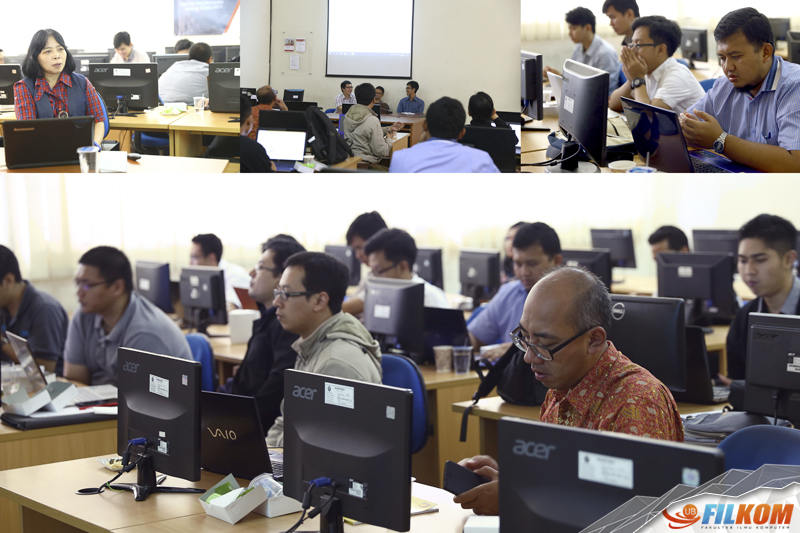 The key of form arrangement is in the way to answer and write down the form as required in assessor matrix assessment, therefore the goal will be cleared. For example in the implementation of form standard 1 arrangement, existing vision mission and goal should be added with target that explain when vision mission and goal will be achieved, so that we can proof that our vision mission and goal are realistic and can be achieved in any given period of time. Moreover on standard 1 should be explained each steps to achieve the goal, for example achievement in national level first and then international level. Target that should be added on standard 1 should consider that from 1 target there are a lot of indicator. Description about faculty members understanding should be given questions thet leads to understanding of vision mission and goal as well as quantitative data indicates that research of lecturers and students are leading to the vision mission and goal.
Presentation continued with Standard 4 about human resources, written guideline needed as reference of form standard 4 arrangement, it will better if the ruled mention first after that can be followed with form standard 4 description.
Thereafter presentation standard 6 about financial, facilities and information system. In this standard should be explained about involvement of programme in planning and management of fund. Standard 6 is crucial standard because it is related with finance.
Presentation standard 5 discussed a lot of things about curriculum and student thesis. FILKOM Apps really helpful in monitoring process of student thesis. Presentation standard 7 about research, community services and cooperation. Suggestion that can be given for standard 7 is the need for additional supporting documents about involvement of student in research and community services activities. There should be prepared record of research and community service with the highest score for international publication. As summary, in the implementation of accreditation form arrangement should be based on accreditation assessment matrix and synchronization between form 3A and 3B. [hnf]