Tim PPARK perwakilan Fakultas Ilmu Komputer Universitas Brawijaya (FILKOM UB) menjadi juara 2 dalam kompetisi Multimedia and Game Event (MAGE) 2017 kategori Internet of Things yang diselenggarakan oleh jurusan Teknik Multimedia dan Jaringan, Institut Teknologi Sepuluh Nopember Surabaya (25/2/2017). Tim PPARK beranggotakan tiga mahasiswa FILKOM yaitu Mukmin (Teknik Komputer/2014), M. Yusuf Effendi (Teknik Komputer/2014) dan Melati Ayuning Lestari (Teknik Informatika/2015). Adapun karya yang dibuat juga diberinama PPARK, merupakan suatu sistem yang memungkinkan pengguna lebih mudah dalam menemukan tempat parkir jika bepergian ke suatu tempat. PPARK merupakan pengembangan aplikasi PARK ME yang sebelumnya dibuat Mukmin bersama dengan Hedy P. (Teknik Komputer/2014) dan Rizky Novriansyah (Sistem Informasi/2015). PPARK adalah teknologi yang memadukan penggunaan hardware dan software. Hardware yang digunakan adalah sensor magnet yang dirancang sedemikian rupa untuk dipasang di setiap slot parkir yang ada di pusat perbelanjaan atau lokasi parkir lain yang diinginkan. Hardware tersebut berguna mendeteksi apakah sebuah slot parkir sedang terisi kendaraan yang sedang parkir atau tidak.
"Sekarang dikembangkan dengan tambahan fitur info ketersediaan slot parkir dan menu pemesanan serta keamanannya," jelas Mukmin.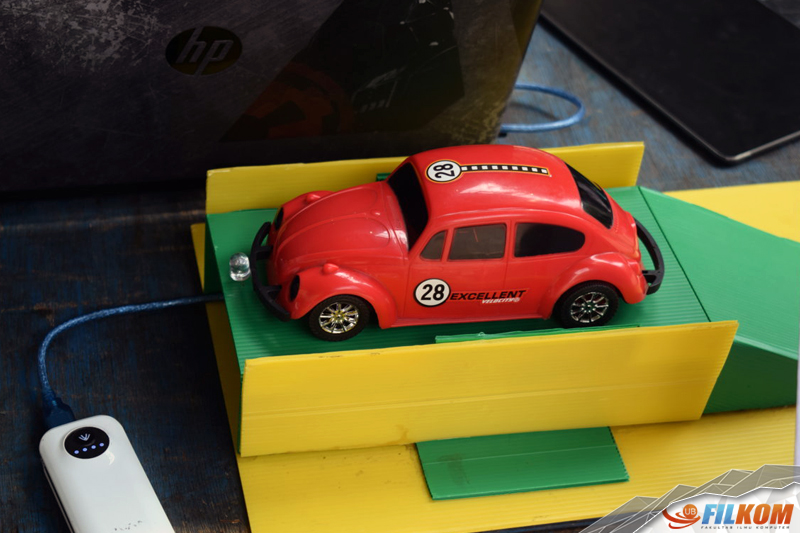 Dengan tambahan fitur ini maka memungkinkan pengguna untuk mengetahui jumlah slot parkir kosong tersisa di lahan parkir tertentu yang menggunakan sistem PPARK. Selain itu jika ditemukan tersedia slot parkir kosong, maka pengguna dapat langsung memesan slot tersebut melalui aplikasi mobile. Aplikasi PPARK yang telah terintegrasi dengan API Google dapat menunjukkan Google Maps dengan tambahan tampilan titik-titik yang menunjukkan slot parkir kosong. Kemudian bagi pengguna yang telah melakukan pemesanan slot parkir akan diberikan batas estimasi waktu hingga tiba di lokasi parkir. Estimasi waktu didasarkan pada informasi kondisi lalu lintas jalan yang didapat dari aplikasi Google Maps.
"Takutnya pengguna sudah pesan tapi ternyata tidak datang akhirnya malah merugikan pihak pemberi layanan parkir. Estimasi waktu ditentukan dari traffic dijalan. Karena dari Google Maps kondisi lalu lintas jalan juga bisa terlihat. Kalau sedang macet estimasi waktu tiba yang diberi lebih lama dari pada saat jalan sepi," ungkap Mukmin.
Meski demikian jika pengguna merasa waktu yang ditentukan masih kurang untuk menuju lokasi parkir, maka dapat melakukan penambahan waktu dengan membayar jumlah tertentu. Sementara jika pengguna datang terlambat dari waktu yang telah dipesan, maka pengguna tidak dapat masuk. Jika pengguna datang tidak melebihi waktu estimasi, maka pengguna dapat masuk lahan parkir dengan terlebih dahulu melakukan scan barcode.
"Setiap pengguna yang memesan slot parkir lewat aplikasi akan mendapat barcode. Kemudian tempat parkir yang menggunakan sistem PPARK akan mempunyai barcode scanner," jelas Mukmin. [dna]