Tiga mahasiswa Fakultas Ilmu Komputer Universitas Brawijaya (FILKOM UB) yang menamakan dirinya tim Ex Change membuat teknologi monitoring udara dengan nama SMOQ. Teknologi ini mengantarkan Renal Prahadis (Teknik Komputer/2014), Muhammad Ulul Albab Iryanto (Sistem Informasi/2015) dan Maulida Sabrina (Sistem Informasi/2015) menjadi juara 3 kompetisi Multimedia and Game Event (MAGE) 2017 kategori Internet of Things yang diselenggarakan oleh jurusan Teknik Multimedia dan Jaringan, Institut Teknologi Sepuluh Nopember Surabaya (25/2/2017).
Dijelaskan oleh Renal bahwa SMOQ merupakan perpaduan hardware dan software. Dimana perangkat hardware terdiri atas alat pendeteksi kondisi udara dan mikrokontroller, sementara software dibuat dalam bentuk aplikasi yang dapat dioperasikan pada perangkat mobile berbasis android. Cara kerja alat ini, hardware pendeteksi kondisi udara yang memiliki empat macam sensor diletakkan di daerah yang ingin diperiksa kualitas uadranya. Kemudian alat tersebut akan berperan sebagai pendeteksi kulitas udara, kadar asap, karbon monoksida dan suhu udara. Input data hasil deteksi tersebut kemudian disimpan dan dianalisis pada mikrokontroller dan hasilnya dikirimkan ke jaringan internet untuk kemudian dapat diakses melalui mobile device yang telah terinstal software SMOQ. Aplikasi software memungkinkan pengguna melihat informasi status kualitas udara. Terdapat tiga jenis status kualitas udara yang akan ditampilkan pada aplikasi SMOQ yaitu normal, siaga dan waspada. Penentuan status berdasarkan input data dari deteksi sensor dan Indeks Standar Pencemaran Udara (ISPU) yang berlaku di Indonesia dan ditentukan oleh Badan Pengendalian Dampak Lingkungan (Bapedal).
"Kalau hasil analisis input data menghasilkan indeks akhir kurang dari 200 maka status kualitas udara normal. Kalau Indeks antara 200 sampai 300 berarti statusnya siaga. Untuk status waspada berarti kuliitas udara sangat buruk maka indeks kualitas udara menunjukkan angka lebih dari 300," jelas Renal.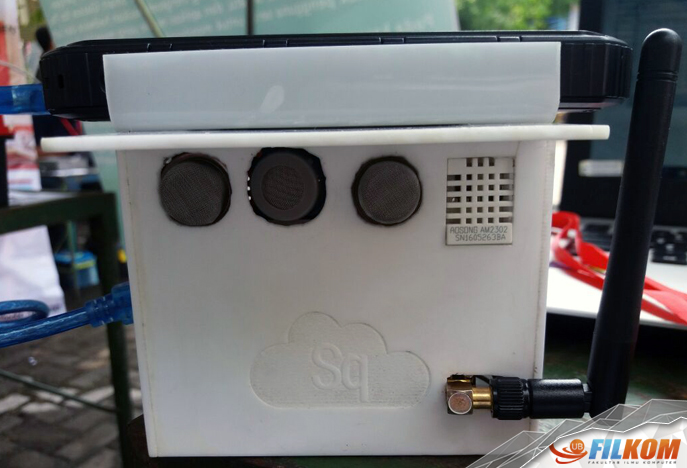 Pembuatan SMOQ ini disampaikan oleh Renal lebih ditujukan untuk pemerintah sebagai alat penyedia data untuk pengambilan keputusan atau kebijakan terkait pemeliharaan lingkungan. Meski demikian masyarakat umum juga bisa menggunakannya untuk keperluan pribadi. Namun untuk penggunaan oleh pemerintah akan lebih banyak manfaat yang bisa diperoleh.
"Alat ini bisa langsung menganalisa data dari beberapa hardware detector yang diletakkan dibeberapa tempat berbeda dan mengambil rata-rata kualitas udara dicakupan wilayah tertentu. Jadi pemerintah bisa mengetahui daerah mana saja yang memiliki kadar polusi yang tinggi dan mengambil tindakan penyelamatan atau pencegahan," jelas Renal. [dna]
Video tentang SMOQ dapat diakses disini.