Perwakilan Victoria University (VU), Melbourne, Australia mengunjungi Fakultas Ilmu Komputer Universitas Brawijaya (FILKOM UB) pada Selasa (18/7/2017). Dalam kunjungan tersebut Wayan Firdaus Mahmudy, S.Si, M.T, Ph.D selaku Dekan FILKOM yang didampingi jajaran pimpinan FILKOM dan Staf Regional Australia International Office UB, Prof Loekito Soehono menyambut baik kedatangan Rhys Williams selaku Director International Development VU yang hadir bersama staf. Kunjungan VU ke FILKOM UB tersebut bertujuan untuk melakukan pembahasan kelangsungan program Double Degree FILKOM UB – VU yang telah berjalan sejak tahun 2016 lalu.
Dalam kunjungan tersebut dibahas mengenai rencana perbaikan Memorandum of Understanding (MoU) dikarenakan MoU pertama dibuat saat FILKOM masih berstatus program setara fakultas yang bernama Program Teknologi Informasi dan Ilmu Komputer (PTIIK). Selain itu program double degree yang telah berjalan hingga saat ini hanya diperuntukkan bagi mahasiswa program studi Teknik Informatika (TIF) saja. Diharapkan kedepannya program double degree ini juga dapat diikuti oleh mahasiswa FILKOM dari program studi selain TIF. Untuk itu diperlukan pembaharuan MoU dan pemetaan kurikulum yang mengatur pelaksanaan double degree untuk program studi selain TIF.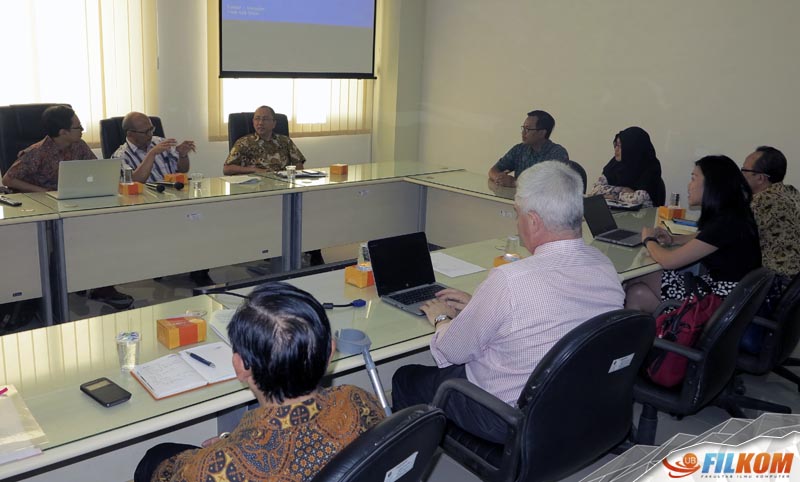 Hingga saat ini program double degree FILKOM UB – VU telah diikuti oleh satu mahasiswa Program Studi Teknik Informatika, yaitu Naufal Bayuaji Pawenang (TIF/2013). Naufal telah menyelesaikan studi satu tahunnya di VU pada Januari 2017 lalu dan kini telah kembali ke FILKOM UB untuk menyelesaikan proses skripsinya. Pada kunjungan tersebut Naufal diundang pula untuk hadir dan berbagi kesan pesan selama studinya di VU. Naufal mengaku studinya di VU selama satu tahun merupakan pengalaman yang sangat berharga karena dirinya banyak belajar hal baru, serta memiliki kesempatan untuk membangun link dengan mahasiswa VU yang berasal dari berbagai negara.
"Disana lebih multikultural. Saya banyak belajar hal baru. Disana kita harus menyelesaikan total tujuh subject atau mata kuliah termasuk dua project yang harus dikerjakan secara berkelompok dengan teman-teman yang berasal dari berbagai negara," jelas Naufal.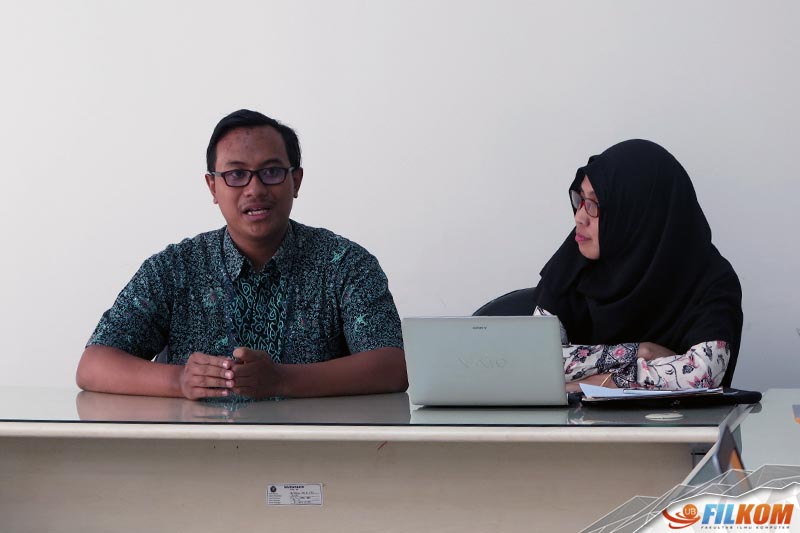 Untuk mahasiswa program studi TIF yang mengikuti program double degree FILKOM UB – VU diberikan kesempatan untuk memilih diantara dua keminatan yang ditawarkan yaitu NBIT Network and System Computing major dan NBIT Web and Mobile Application Development Major. Bagi mahasiswa prodi TIF yang ingin mengambil program double degree baik keminatan NBIT Network and System Computing ataupun NBIT Web and Mobile Application Development Major harus terlebih dahulu telah menempuh delapan mata kuliah prasyarat di FILKOM UB yang meliputi (1) pemrograman web, (2) pemrograman dasar, (3) jaringan komputer, (4) basis data, (5) sistem operasi, (6) administrasi server, (7) pemrograman lanjut dan (8) pemodelan berorientasi objek. Mahasiswa yang berminat mendaftar program ini juga harus memenuhi persyaratan administrasi dengan mengumpulkan dokumen ijasah SMA, KHS atau transkrip semester 1 hingga semester 5 dan sertifikat IELTS dengan minimum skor 6.0. Mahasiswa peserta program double degree ini setelah lulus akan memperoleh dua gelar. Gelar pertama didapat dari FILKOM UB yaitu Sarjana Komputer dan gelar kedua dari VU yaitu Bachelor of Technology Information. Hal ini akan memudahkan lulusan double degree jika ingin melanjutkan karir atau studinya di luar negeri khususnya di Australia.
Pada periode sebelumnya Naufal mengikuti program double degree ini dengan biaya sendiri. Namun diungkapkan oleh Naufal bahwa sebenarnya ada peluang terbuka untuk mengajukan permohonan beasiswa dari kantor pusat UB. Bagi yang ingin mengusahakan pengajuan beasiswa ini maka perlu mempersiapkan berbagai persyaratan administrasi yang dibutuhkan dengan menanyakannya terlebih dahulu ke bagian kemahasiswaan kantor pusat UB. Selain itu pemegang visa pelajar di Australia juga diperbolehkan untuk melakukan kerja part time selama masa studinya. Informasi lebih lanjut mengenai program double degree FILKOM UB dan VU dapat diperoleh dengan menghubungi sekretaris Jurusan Teknik Informatika M. Tanzil Furqon, S.Kom, M.CompSc. [dna]