Keberagaman cabang disiplin ilmu dalam bidang ilmu komputer dan teknologi informasi (TI) saat ini menuntut institusi mampu menyelaraskan kualitas lulusan dengan perkembangan teknologi. Fakultas Ilmu Komputer, Universitas Brawijaya (FILKOM UB) yang memiliki berbagai cabang disiplin ilmu dalam bidang ilmu komputer dan TI dirasa tidak cukup hanya mengandalkan pengetahuan melalui bahan ajar saja. Perlu adanya peningkatan pengetahuan salah satunya dalam bentuk kuliah umum dengan menghadirkan pemateri yang merupakan pakar di bidang terkait.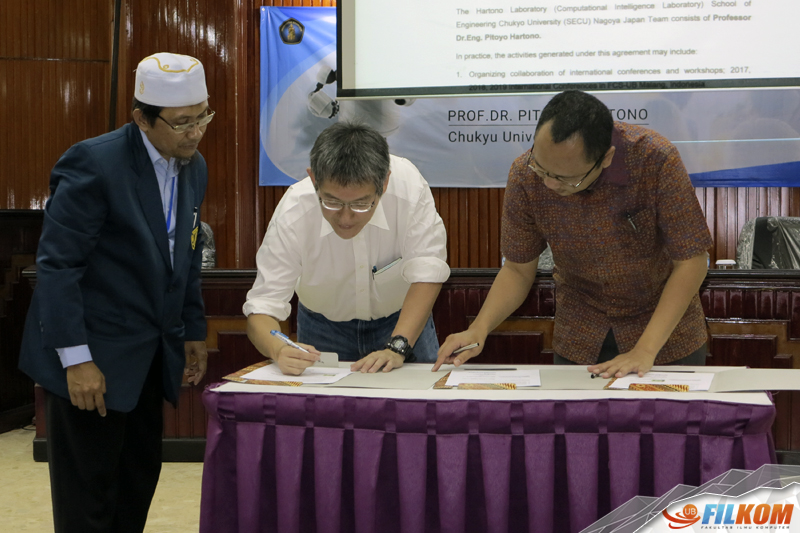 Oleh karenanya pada Jumat (8/9/2017) FILKOM menyelenggarakan kegiatan Kuliah Umum Computational Intelligence for Robotics bagi mahasiswa S1 dan S2. Pemateri yang hadir pada kesempatan tersebut adalah Prof. Pitoyo Hartono selaku profesor di School of Engineering, Chukyo University sekaligus peneliti di Humanoid Research Institute, Waseda University. Dijadwalkan dua agenda penting pada kesempatan tersebut yaitu pemberian kuliah umum serta penandatanganan Memorandum of Agreement (MoA) antara FILKOM dan Chukyo University.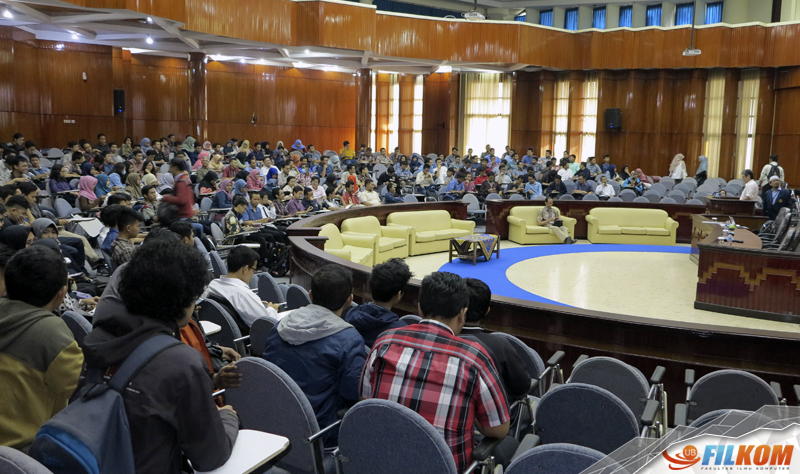 Disampaikan oleh Wayan Firdaus Mahmudy, S.Si, M.T, Ph.D selaku Dekan FILKOM dalam sambutannya bahwa acara ini sangat penting karena akan ada beberapa hal positif yang diharapkan dapat tercapai setelah kegiatan ini. Antara lain baik dosen maupun mahasiswa diharapkan bisa mendapatkan ide penelitian yang bisa digali dari paparan Prof. Pitoyo. Selain itu bagi mahasiswa S2 juga akan ada manfaat yang bisa diambil. Dimana Prof Pitoyo telah menyatakan kesediaannya untuk menjadi pembimbing tesis bagi mahasiswa S2 FILKOM dengan tetap didampingi dosen pembimbing dari FILKOM.
"Harapannya hasil tesis mahasiswa kita nantinya dapat menghasilkan publikasi yang layak publish di publikasi internasional. Jadi mahasiswa S2 silahkan mulai mempersiapkan draft proposal untuk dikirimkan ke calon pembimbing di Filkom, kemudian baru dikirim ke Prof. Pitoyo," ungkap Wayan.
Sementara itu MoA yang ditandatangani pada kesempatan tersebut juga dapat memberikan manfaat bagi dosen FILKOM, sebab Kementerian Riset Teknologi Republik dan Pendidikan Tinggi Indonesia (Ristekdikti RI) mengeluarkan program pemberian hibah penelitian untuk berbagai penelitian yang pelaksanaannya bekerjasama dengan peneliti dari luar negeri.