Dua dosen Fakultas Ilmu Komputer, Universitas Brawijaya (FILKOM UB) terpilih sebagai Best Presenter di masing-masing sesi yang diikuti pada 5th International Symposium on Computational and Business Intelligence (ISCBI) 2017 di Dubai, Uni Emirat Arab (11-14/8/2017). Mereka adalah M. Ali Fauzi, S.Kom, M.Kom. dan Yuita Arum Sari, S.Kom., M.Kom yang keduanya merupakan anggota Grup Riset Computer Vision FILKOM UB.
Perlu diketahui bahwa Grup Riset Computer Vision mengangkat topik utama tentang smart wheelchair bagi penyandang disabilitas dalam International Symposium tersebut. Setelah melalui proses review, tujuh penelitian ilmiah dari Grup Riset Computer Vision berhasil terpilih dan dipresentasikan dalam forum ilmiah internasional tersebut. Disampaikan oleh Fitri Utaminingrum, Dr. Eng., S.T, M.T selaku Ketua Grup Riset Computer Vision bahwa kegiatan ini diikuti oleh Grup Riset Computer Vision sebagai agenda rutin yang dilakukan dalam upaya untuk memacu para peneliti dari kalangan dosen maupun mahasiswa agar selalu aktif dalam melakukan riset atau kajian keilmuan yang sesuai dengan perkembangan bidang keilmuan saat ini, sekaligus memupuk semangat kebersamaan didalamnya.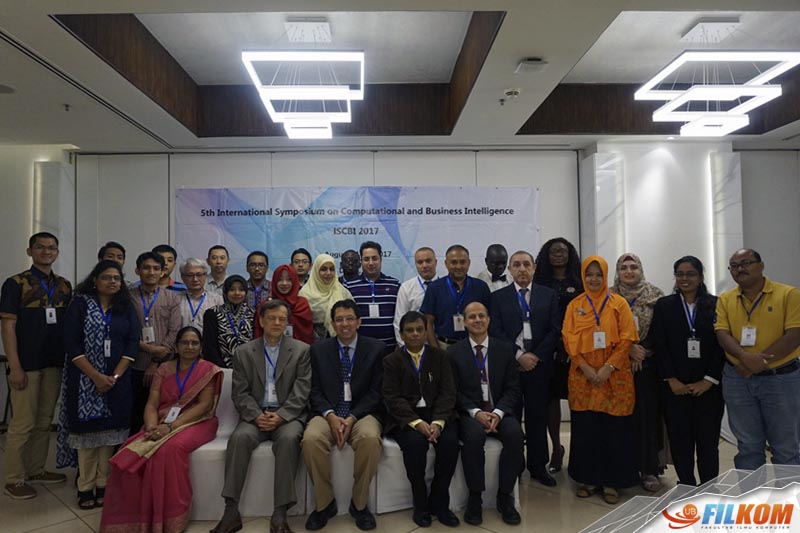 ISCBI 2017 tersebut dihadiri oleh peserta dari berbagai negara, yaitu Pakistan, Saudi Arabia, Iran, Nigeria, Afrika Selatan, Republic of Mauritius, Jepang, Swiss, Algeria, India, Malaysia, dan Indonesia. Selain itu, konferensi ilmiah ISCBI 2017 juga menghadirkan tiga orang keynote speaker yaitu Prof. Robert Kozma dari Amerika yang merupakan presiden dari International Neural Network Society (INNS), Prof. Rolf Dornberger dari Swiss, dan Prof. Marios M. Polycarpou dari Cyprus yang pernah menjabat sebagai presiden IEEE Computational Intelligence Society. Selain
Fitri mengaku merasa bersyukur atas segala yang diraih bersama timnya. Karena tidak hanya mendapat kesempatan untuk mempresentasikan penelitian ilmiah di ISCBI 2017 Dubai, namun dirinya beserta tim ternyata juga mampu berkontribusi untuk institusi.
"Saya sangat bersyukur. Karena tidak hanya berkesempatan mempresentasikan hasil penelitian kami di ISCBI 2017 Dubai, tapi kami juga sekaligus bisa berkontribusi membawa nama baik institusi dan Indonesia di tingkat internasional dengan berhasil membawa pulang dua penghargaan best presenter tersebut," ujar Fitri.
Berikut adalah penelitian-penelitian yang dipresentasikan anggota Grup Riset Computer Vision pada 5th ISCBI 2017:
| | | |
| --- | --- | --- |
| No | Judul Penelitian | Presenter |
| 1 | Optimizing K-Means Text Document Clustering using Latent Semantic Indexing and Pillar Algorithm | Sigit Adinugroho |
| 2 | Onward Movement Detection and Distance Estimation of Object using Disparity Map on Stereo Vision | Putra Pandu Adikara |
| 3 | Triangle Similarity Approach For Detecting Eyeball Movement | Renaldi Primaswara Prasetya |
| 4 | Tomato Ripeness Clustering Using 6-Means Algorithm Based on V-Channel Otsu Segmentation | Yuita Arum Sari |
| 5 | Determining Direction of Moving Object using Object tracking for Smart Wheelchair Controller | Randy Cahya Wihandika |
| 6 | Development of Computer Vision Based Obstacle Detection and Human Tracking on Smart Wheelchair for Disabled Patient | M. Ali Fauzi |
| 7 | Adaptive Human Tracking for Smart Wheelchair | Fitri Utaminingrum |