Final of BASIK III that organized on Monday (23/11) in Widyaloka Building University of Brawijaya (UB) becomes an event to showcase innovative and solutif UB's student works. BASIK is an annual event held by Computer System Student Association Faculty of Computer Sciences (FILKOM) in the creativity development competition event. The organizing of BASIK continuous to grow towards a better each year. Delivered by Zainul Bahar (2013) as BASIK III Head of Convener that in BASIK I, scope of the participants are still in study program of computer science, and afterwards on BASIK II, scope of the participants were developed to the all FILKOM students of all study programs. This year BASIK III is organized for wider scope of participants that is including all of UB students, with four categories to be competed including smart device, web design, game development and application development.
In BASIK III this year, participants' proposals in total that enter reach 112 proposals consists of 89 proposals in category smart device, 10 proposals in category web design, 5 proposals in category game development and 8 proposals in category application development. In final stage is chosen three of the best works for each category. The selected teams who get opportunity to present their masterpiece in BASIK III final attended by hundred of FILKOM students and FT-UB student delegates and also UB vocational that also participated in the competition. Not only that, on the occasion also attended by Intel Corporation delegates to present guest lectures and sharing knowledge and also experience with the participants. He is Firstman R. Marpaung, Development Relation Manager, Software and Services Group Intel Corporation.
Telling a little about the company where he works, Firstman mentioned that Intel has a vision to develop computational technology and thus able to connect and enrich each human being's life on the earth. Therefore Intel focus recently is on development of Internet of Things (IoT). Delivered by Firstman that briefly and clearly CEO Intel Brian Krzanich defines IoT with "Make Everything Smart".
"Till recent of which still widely used is mobile device technology with its way of operation touching screen devices. Means, it still on Internet of Screens level. IoT is not like that, no need a direct physically contact yet able to communicate with the device as we want," he explained.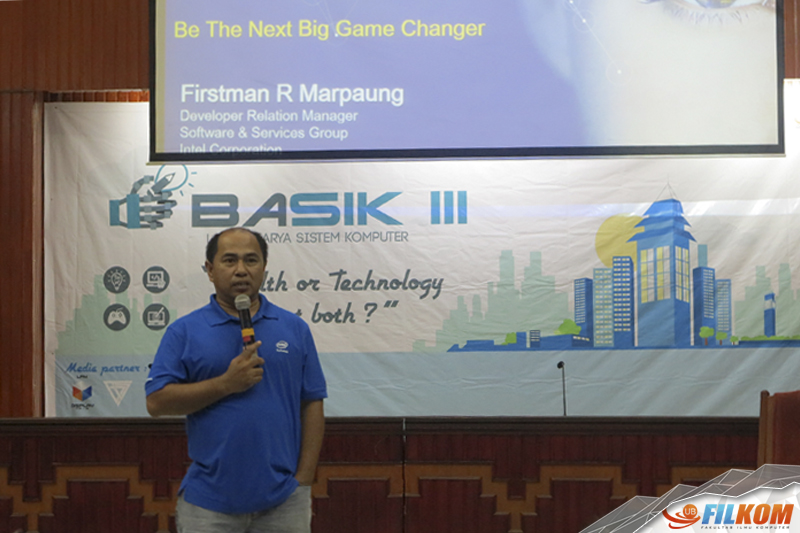 Firstman explained that recently the largest Intel revenue is not from Personal Computer (PC) yet from IoT. Therefore Intel product development is now focused on supporting IoT. In Intel, anything can be mentioned as IoT should have three main prerequisites. Firstly, intelligent devices that able to functioned as smart devices to acquisition and filter data safely. The second is intelligent system of systems defined as a smart system of which a part of the larger system. Of which within the larger system, each smart device is connected each other, supporting each other and also able to share data safely. The third, IoT should be equipped with ability of end to end analytics that is an ability to give solutions that is processed by analytic devices and afterwards the result to be submitted to the cloud and thus able to be accessed by many users who are in need.
"If only up to the second condition, not yet cover the end to end analytics means it is not IoT yet still toy (games)," said Firstman.
In order to support IoT, Inter has launched some products of embedded board namely "Galileo" that was launched in 2013, "Edison" launched in 2014 and "Quark" that just launched in 2015. Development of embedded board Intel that initially still based on human's brain work principles alike, recently has developed towards Realsense technology. Not only able to process data to be a result, embedded board with realsense technology is designed as brain/processor of which has sense such human and thus functioned naturally, intuitively (easy to be used and understood) and also immersive (skipping the limit between user and machine). "This Realsense technology has been used in several shopping centre in Jakarta. For example in the lift if who enter is people with surly face, then the smart device to be installed will able to catch the emotion and afterwards will play cheerfully songs and giving encouragement. If who enter a woman then seem to be excited then in signage screen will directly played some product ads," said Firstman with small smile.
Informed also by Firstman that recently Intel is trying to help in developing public innovation for being able to be realized as IoT that gives wider benefits. Therefore Intel receives inputs of many IoT's innovation which is afterwards will be studied further. If it is considered as good innovation then Intel will help innovation development process until to be a ready to use and marketable product. For innovation owner suggested to follow various IoT Innovation Challenges that are held by Intel in collaboration with local start up companies. Further information could be accessed at www.dicoding.com/challenges/42.
"I need solutions and innovations to be helped to enter industry," he said. [dna/Humas UB/trans. Denok]
Below is list of BASIK III Winners:
GAME DEVELOPMENT
No

Nama Tim

Anggota

1

Alfalah

Ranu Goldan Y. E.

Imron Hari Budisetyo

Auliaur Rasyid

2

Filkombit

Ade Suluh Novriananda

Muhammad Rizal Ma'ruf

Kalbuadi Joyoputro

3

Gungnir

Ilman Naafian F

Nazzun Hanif Ahsani

Naufal Rizky Akbar
APPLICATION DEVELOPMENT
No

Nama Tim

Anggota

1

Al-fath

Auliaur Rasyid

M. Faizal Putra Pradana

Mukhammad Sharif H.

2

Terharu

Adi Pratama

Lia Dia Farida

Muhammad Arif Jaya

3

Salomon

Farizky Novanda P

Farid Rahmat Hartono

Naufal Rizky Akbar
WEB DESIGN
No

Nama Tim

Anggota

1

Smart Garden

Dessy Amri Raykhamna

Prananda Antinasari

Makrina Christy Ariestyani

2

Manut

Pramuditya Anantanur

Ibrahim Yunus Muh. Fiqhan

Iqbal Taufiq Ahmad Nur

3

Morsbe

Eko Prasetyo Lukman N.H

Riski Puspa Dewi D.P.

Indah Mutia Ayu Dita
SMART DEVICE
No

Nama Tim

Anggota

1

Uppila

Novia Ulfa Nuraini

Retno Perwita Sari

Bagus Satria Wiguna

2

Mild

M. Yusuf Hidayat

Haqqi Rizqi

Misran

3

TheEx

Hedy Pamungkas

Rafi Fajar Hidayat

Yandra Charlos H.